Aspen School District
AHS Q4 Yearbook Class present short films
Students in Sarah Ward's Q4 Yearbook Class present short films. Take a look.
Desire 2 Win- This film created by Adelaide Ryerson covers the boys' lacrosse team including their connection to and loss of Carson Clettenberg.
Who is Cam?- Created by Luna Murray, Stela VerHey, Anna Dangler, and Liv Ferrara, this film dives into Cam Daniel, who he is, and his life both in and out of school.
AHS Alums- Gia Galindo Bartley, Marybeth Clapper, Kate Scott, and Aidan Sunkel selected three AHS alums (Cory Parker, Barton Tofany, and Haylen Gonzalez-Pita to discuss their choice to come back and teach at AHS.
A Look into ASD Dog's Lives- Elsa Tullar, Kristine Hvolbaek, Kellar Leach, and Sasha Clifford explored the lives of dogs around the district.
The Story of Bart- The connection between Barton Tofany and Taylor Swift is investigated in this film.
Prama Documentary- Grace O'Callaghan, Gracie Brown, Susannah Goldsmith, and Olivia Cook created this mockumentary to explore the prom ask culture at AHS.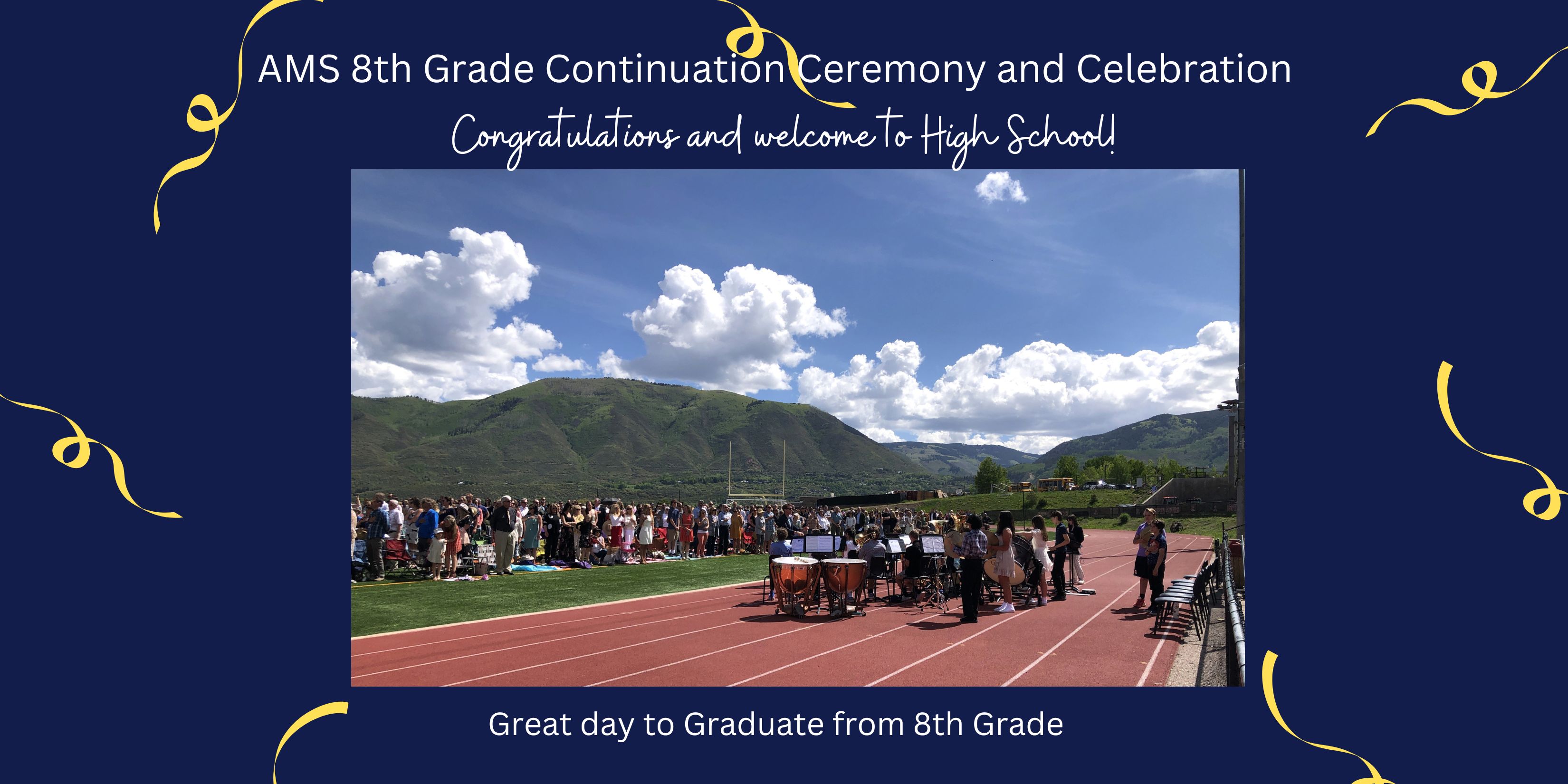 Aspen School District
8th Graders become High School Freshman
Aspen School District
AMS students recognized for leadership, positive attitudes in Outdoor Ed trips
Aspen Middle School students gathered one last time this school year to cheer on their fellow students, who were recognized for leadership during their Outdoor Education trips.
Camping, skiing, and a stand-in adventure at Sylvan Lake State Park (because the rivers were too high this year.)
"These students embody outdoor people," one teacher said.
And the winners are:
5th-grade winners of the "Kellie Schenck Award":
Emma Walker, Ella Yaw, Ardin White, Maddox Miller, Scarlett Taylor and Bashar Akkad
6th-grade winners of the "Super Skier Award"
And the winners are:
Sloan Bauer, Sam Striegler, Max Wisniewski, Abby White, Alfred Kaplinksi, Daylee Davidson, Boti Bartha, Siri Bassion, Beck Dunnett, Dalia Muresan, Harry Spitteler and Lilly Milton
7th-grade winners of the "Golden Boot Award"
And the winners are:
Peter Milton, Allessa Oliver, Ainsley Loeb, Sam Roach, Parker Loeb and Logan Chimelewski
Aspen School District
Teachers eke out a win over 8th Graders in EOY Basketball showdown
Aspen Middle School students fought hard until the final buzzer.
Alas, the 8th Graders came up one basket shy of tying the game and an opportunity to win in the exciting annual End of the School Year tradition of 8th Grade vs. AMS staff.
The game was dedicated to classmate Alex Villa Mihaylov, who passed away earlier this year. The students said the game was a "Celebration of his life."
Teachers were no push-overs as they headed to the court. They came in hot, working the ball. They had height on most of the 8th graders, but the 8th Graders had speed. And the crowd was clearly behind them.
At the half, the teams were tied and it looked like the Teachers were going to close it down in the second half. But 8th Graders came on strong, aggressive and determined. They caught up to the Teachers and then it was a nail-biting finish that could have gone either way.
At the buzzer, Teachers won 22-20; Until they meet again.
Aspen School District
Aspen School District Holds Training for Bus Driver Applicants
### **ASD offers Increased benefits** ### Aspen School District 's Transportation team will run its Commercial Driver's License (CDL) training course for bus driver applicants starting on June 12. This training will run Monday - Friday, starting at 8 a.m. on Monday, June 12, with our theory classroom portion. Applicants should plan on 8-hour training days for the theory portion and 4-hour training days for the behind-the-wheel portion. Upon completion of the course, applicants will have scheduled tests with the Rifle School District to obtain their CDL. The estimated time of training takes a month to complete, depending on the number of trainees and how quickly they pick up aspects of the training and develop confidence behind the wheel. ### **New in the coming school year:** The Aspen School District and Aspen Education Association agreed to new pay and benefits, effective July 1, 2023: **To attract and retain transportation staff, all transportation department employees will have immediate access to full employer contributions to their insurance starting at their date of hire, regardless of full-time status.** Finally, staff who waive ASD health insurance for 2023-2024 and can show proof of coverage via another means (e.g., spouse's employer) will receive a $3000 payment to a retirement or HSA account (more details on this will be provided). Driver Pay: * CDL Route operators that drive a CDL vehicle or a minibus as a coach or chaperone are paid their normal route operator rate, paid for only pre/post trip inspection time and behind the wheel actual driving time. [Click here for the 2023-2024 agreement on salary and benefit](https://go.boarddocs.com/co/aspen/Board.nsf/files/CS3SVK748768/$file/Joint%20Communication%20AEA%20%26%20ASD%20Negotiations%202023.pdf) [Click here for the agreed on salary schedule.](https://docs.google.com/spreadsheets/d/1WKc7gIGGRd-AAULy-OEl0tnyNUtkbv_hcXyPXMVLuCk/edit#gid=1224033595) Anyone interested in taking the CDL course can email.
Aspen School District
AMS New Clubs, More Fun
Aspen School District
Members of Osage Nation perform traditional dances
Members of the Osage Nation performed Southern and Northern Traditional dances Friday for Aspen students.
In between dances, they explained the meaning of their regalia.
Along the back side of the men's regalia, for example, is an otter hide. The otter is special to the Osage. It lives in water and on land, and represents balance.
The family members are in Aspen from Oklahoma for the 2023 Shining Mountains Pow Wow Aspen, a Native American cultural event that features dancing, drumming and singing contests.
If you go:
The Pow Wow is in Aspen High School Gym.
Saturday from noon to 5 p.m. & 6 to 9 p.m.
Sunday from noon to 5 p.m.
Tickets are $10 for adults; $5 for students and children under 12 and veterans enter for free.
Aspen School District
AHS Trio Offers Free Soccer Camp for Youths
Details:
Unity Soccer Aspen Summer Camp is free and for children ages 7-12.

Visit www.unitysocceraspen.com for details and to support.
Three Aspen High School sophomores, doing some research on summer camps, discovered a nonprofit organization that offers free soccer camps for children in Africa.
"It connected with our values and passions the most," Collin Luu, AHS sophomore, said about the nonprofit organization ". . We were moved by the idea of using soccer as a vehicle for positive change and providing access to sports, education, and life skills development to children who may otherwise lack such opportunities."
Luu, and fellow sophomores and soccer players Luka Jaramaz and Blake Zilberman, decided they wanted to do something similar. They designed a summer soccer camp for children ages 7-12 where young players can develop their skills in a fun and supportive way, they said.
And, it's free.
"We felt a need to give back in a way that connected with us personally," they said. "Witnessing the impact the organization was making on the lives of these children, promoting their well-being and personal growth, further deepened our connection and prompted us to support and engage with their cause."
Unity Soccer Aspen summer camps will start June 12 and go through Aug. 3, Mondays, Wednesdays and Thursdays from 10 a.m. to noon at Rio Grand Park in Aspen.
All the young footballers need is cleats, sunscreen, a water bottle and a good attitude.
It's a big commitment, they said, but it is something they enjoy doing.
"Soccer breathed life into my life and defined a large part of my high school experience," Luu said. "I want to bring those same experiences and memories to as many people as possible."
"We want to make this a program to inspire others to go out and take that risk or to try and make an impact in any way they want," they said.
The trio are hoping to raise money to support the camp through donations.
"The best way for people to support us would be to support our cause monetarily but also by getting out the word about our program," they said. "The more people that participate, the bigger the impact we can make on the communities we aim to support."
Aspen School District
U.S. Surgeon General says Social Media an Urgent Health Issue for Young People
U.S. Surgeon General Dr. Vivek H. Murthy is warning of the mental health effects of social media on young people. He issued an urgent advisory this week.
According to the advisory, Social media use by youth is nearly universal. Up to 95% of youth ages 13–17 report using a social media platform, with more than a third saying they use social media "almost constantly."
Although age 13 is commonly the required minimum age used by social media platforms in the U.S., nearly 40% of children ages 8–12 use social media.
Despite this widespread use among children and adolescents, robust independent safety analyses on the impact of social media on youth have not yet been conducted, the advisory said. There are increasing concerns among researchers, parents and caregivers, young people, healthcare experts, and others about the impact of social media on youth mental health.
In May, Aspen School District joined other school districts across the country in a lawsuit against social media companies saying the companies have designed highly addictive apps and marketed their products to kids who are uniquely susceptible to manipulation. School districts, meanwhile, have been left to deal with the fallout from the harm those apps are doing to students' mental health, the lawsuits argue, according to Education Week.
READ EDUCATION WEEK ARTICLE HERE
"The problem is social media has written these algorithms, these programs that are designed to addict kids, younger and younger and younger, and it's working really well," Aspen School District Superintendent David Baugh the Aspen Daily News. "It's really negatively impacted schools. We're spending lots on counselors, social workers. … We're joining this litigation to try to return some money to the classroom that we're having to spend elsewhere so the kids can be successful in the classroom."
READ ASPEN DAILY NEWS ARTICLE HERE
The Surgeon General's advisory says: "To better safeguard the mental health and well-being of children and adolescents, policymakers, technology companies, researchers, families, and young people must all engage in a proactive and multifaceted approach."
Including, the report says,
strengthening protections to ensure greater safety for children interacting with all social media platforms;

developing age-appropriate health and safety standards for technology platforms;

and support the development, implementation, and evaluation of digital and media literacy curricula in schools and within academic standards.
There are many good resources and articles available online with advice about how to parent through the challenges of social media:
Common Sense Media has a number of them:https://www.​commonsensemedia.org/articles/​social-media
We encourage families with children of all ages (it is never too early to start) to consider placing age-appropriate limits on the use of technology, think about adult behaviors and what we are modeling, and keeping open lines of communication and information with children about these important issues. 
Families looking for various kinds of referral and other resources contact  Aspen Family Connections:  970-205-7025.
Aspen School District
MYP Authentification Team Visits ASD, in person and virtually
After more than one year of planning, studying, and preparing, Aspen School District was ready to show the International Baccalaureate Middle Years Programme (MYP) Authorization Team all that it had
The MYP Authorization Team has met with teachers, librarians, students, principals and district administrators this week, ending Wednesday.
It has been a packed agenda as members of the Authorization Team take virtual tours of the campus and classrooms -- some hosted by Aspen High School students -- and talk through every inch of curriculum, building capabilities, and program details with teachers from across every discipline.
"We are so close to our collective goal of becoming an IB district and through this process, we will bring to fruition all of our efforts when we meet the IB Authorization Team," said Sarah After, IB MYP Coordinator.
The MYP Team could find out if ASD has been authenticated as an IB MYP school in the next few weeks.
"It would be huge for us," said Tharyn Mulberry, Assistant Superintendent overseeing curriculum and programs. "It would mean our entire district curriculum would be aligned under one umbrella in all content areas. That's something we have not had before."
Congratulations to the entire MYP team, IB teachers, school principals, and school administrators who worked tirelessly to ready for the Authorization Team visit and entry into the MYP Programme.
Aspen School District
Rodeo Life; Out of the Chute, Second Graders Command Bike Safety
Aspen second graders climbed on top of their bikes, helmet secured and waited in the "bull pen" for their ride around orange cones.
It was the annual Bike Rodeo, the culmination of a bicycle safety program in conjunction with Aspen Police Department.
Third-graders will participate in their Bike Rodeo Wednesday.
Every year, Aspen PD teams up with ASD second and third- graders for a bicycle safety program, where the students learn how to ride safely and ready themselves for the summer ahead.
Big thanks to Aspen Police Departments for the training and ensuring all helmets fit properly.
Aspen School District
ASD's CERT Program Presented to National Audience
SCROLL DOWN TO VIEW CERT PROGRAM SLIDESHOW
In a recent cardiac response drill at Aspen High School, one member of the Cardiac Emergency Response Team  (CERT) called 9-1-1 and stayed on the phone with the dispatcher while he ran with an Automated External Defibrillator (AED) to join the other team members, who had begun compressions on the 'victim'.
In January, District Nurse Robin Strecker and Health Technician Tonie Richards activated a CERT, which has 13 volunteer team members ready to respond should anyone on ASD's campus have a cardiac event.
ASD is a leader among school districts on the Western Slope for initiating a CERT, said Superintendent Dave Baugh. He was recently invited to present the details of the CERT to the American Heart Association's Rural Health Summit in Dallas.
"We live at 8,000 feet and spend so much of our school year in very active environments," Baugh said. "It's so important for our employees to be trained in CPR and AED use."
In December 2022, The American Heart Association reached out to school districts on the Western Slope in Colorado encouraging adoption of a Cardiac Emergency Response Plan and creation of a Cardiac Emergency Response Team.
ASD already had many teachers trained in CPR.  For more than 50 years, the district has run a well-established Outdoor Education Program, which prompted the need for CPR training.
In 2003, the district required all staff to be certified in CPR and First Aid.
But Baugh, Strecker and Richards wanted to do more and the district answered the American Heart Association's call to action.
Strecker and Richards assembled the volunteers, who met and reviewed their CPR/AED skills and set the framework for communications and how the team would function. The ASD Cardiac Emergency Response Team and Plan were adopted by Aspen School District effective January 3, 2023.
Then, they had their first drill.
"We learned a lot in the drill and we adjusted our plan," Strecker said. "We will continue to practice and drill and we expect to improve every time."
"This training and team is important for those who witness a medical event, so they are empowered to do something, to act and to notify Emergency Medical Services," she said. "We can fill in the gap of doing something to help until EMS arrives."